Here Is Exactly How My Course Is Right For You
Extreme Value - Here's Why You Will Be Extremely Happy And Satisfied With My Courses
When you attend my courses, you will find that my courses incorporates the very best practices of learning methodologies & learning topics that you will not find anywhere else:
Active Experiential Learning using David Kolb's Learning Styles & Experiential Learning cycle


Course is designed for Apply Level of Blooms Taxonomy of Learning Domains


Active role plays, situational case studies of various coaching scenarios & numerous real life examples from over a decade of my experience to make sure that you master your coaching skills & are able to apply it in your day to day personal as well as professional life


Daily simulated sessions for practice, live demonstrations of each tool, technique & model, practice of each tool, technique & model in the classroom through practical exercises & games


Mastering skills learned through the Online Multivarsity post certification classes & lessons in your Alumni Login


The BEST VALUE FOR MONEY training with the most benefits & features at a price unmatched by any other training


A unique "Coaching Professionals' Business Kit" - A ready to use system with templates & samples that gives you the exact steps you need to follow to set up a professional coaching business & demonstrate value like a seasoned professional


Razor-sharp clarity about your goals by filling up a profoundly thought provoking Personal Outcomes Form


Training customized to meet your personal needs & goals through your Personal Outcomes form & 1-on-1 guidance provided to you by keeping the batch sizes small, intimate & personal


Lifetime of learning - Online Multivarsity with A/V modules through your Alumni Login


Lifelong physical access to Digital Resource Library


Committed lifelong post training support


Access to community of established and expert coaches


Approved by International Coach Federation (ICF) - While you do not get the ICF certificate in my standalone NLP certification training, the content of this training is approved by ICF for coach specific training. This means that you can rest assured that your qualifications will be considered in high esteem & offer a tremendous boost to your credibility & authority. My courses have the distinct advantage of being the World's 1st NLP Practitioner & NLP Master Practitioner certification trainings to be approved by ICF for Life Coach certification.* (Refer disclaimer given below on this page)
Respect & Credibility from HR community - My courses had been previously pre-approved by SHRM & HRCI for recertification credits for HR professionals which means the content has been accepted for developing the competencies required by an HR professional. This means you get immediate acceptance & respect from the HR community and along with that from the corporate world.


(Optional Add-On) Live coaching practice with instant feedback to give you the confidence that you have indeed truly learned and are able to apply your skills & contribute to the growth & fulfillment of other people (conducted online after completion of classroom training & is spread over 2 – 3 months)


(Optional Add-On) Added learning through participating as observer for other student's live coaching & instant feedback


(Optional Add-On) Access to a unique "10X - Grow Your Business" program that answers your question "Ok, I learned, what next? How do I start generating a livelihood from this?"


(Optional Add-On) Deep insights into your personality using the powerful DISC Personality profile report


(Optional Add-On) A unique coaching program for your self-transformation & development where you are assigned a certified coach who works with you to establish a clear roadmap towards your goals through a transformational coaching engagement
Advantages & Disadvantages Of Obtaining Your NLP Certification From Anil Dagia
ADVANTAGES
DISADVANTAGES



Individualized, Personalized & Customized Training

Every training is customized to meet your specific needs. When you register, you will be asked to fill up a detailed & thought provoking questionnaire. Previous participants have reported that they have taken up to 5 hours to fill the same & doing so in & of itself has generated tremendous insights for them.




No ICF Certification

During this training you learn how to use NLP in different contexts including the context of coaching as per ICF standards. However, ICF certification, is not included in this training in order to make it more economical for you to attend.

Note that the option to upgrade to an ICF certification at a later date, is available to you.

Practical & Result Oriented

While other people claiming to be trainers of NLP audaciously cheat you with either an overdose of powerpoint presentations or some nonsense like "we will teach your subconscious mind", Here, you can learn to master every bit of NLP in a way that you can get your desired result in any chosen area of your life.

If you are a trainer, you will learn to incorporate your knowledge into creating value in your trainings which will earn you more money than you used to.

Stringent Assessment Criteria

Paying your fees & attending the training does not qualify you to receive your certificate. The assessment criteria to fulfill is very stringent & comprises of not just attendance but completion of homework assigned to you at the end of each day of training as well as a case study discussion to demonstrate your competency. Failure to meet the criteria in full will result in your certificate being withheld.

Highly Recognized & Credible Certification

The certificate you will receive is a professional NLP certificate with which you will be eligible to apply for a membership with ANLP (UK), the only umbrella organization that offers impartial & independent advice & supported by many internationally renowned innovators in NLP including Steve and Connirae Andreas, Judith DeLozier, Robert Dilts, Charles Faulkner, Steve Gilligan, Christina Hall, L Michael Hall, Tad James, Bill O`Hanlon, Frank Pucelik and Wyatt Woodsmall. This means that no matter where you go in the world, your certificate will be recognized by the appropriate NLP associations.

Furthermore, the content of this training has been approved by International Coach Federation (ICF) as Coach Specific Training, making it the 1st ICF+NLP dual certification course, a feat which no other NLP trainer has been able to do before Anil.

Even furthermore, the content of this training had been pre-approved by SHRM & HRCI for recertification credits for HR professionals which means the content has been accepted for developing the competencies required by an HR professional. This means you get immediate acceptance & respect from the HR community and along with that from the corporate world.

You Won't Be Brainwashed

Plenty of people claiming to be NLP trainers brainwash their participants to become their blind followers despite the embarrassment of not being able to apply any of their knowledge. The training you will receive here will focus on developing you as a individual rather than a blind follower.
Your Trainer
About Anil Dagia - CxO Coach, Helping People & Business Grow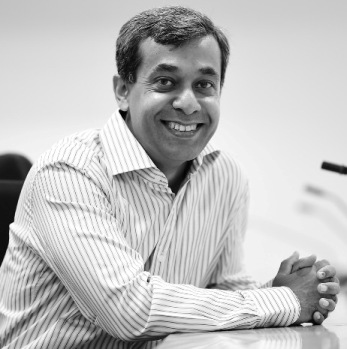 - Life & Business Strategist and Transformation Specialist, Mentor, Coach & Advisor
- Certified Trainer of NLP (Trainer member of ANLP CIC, UK)
- Received NLP Training in South Africa from NLP Master Trainer Dr Terri Ann Laws
- ICF Credentialed Coach, PCC & Mentor Coach
- World's 1st NLP Trainer to offer ICF Approved Coach Training Certification + NLP Certification in a single training***
- Creator of SUPER SUCCESSFUL programs like "Emotional Fitness Gym®", "Neuro Linguistic Influence" and many others
- Winner of ISHMA Awards 2015 for Excellence in NLP Trainings
- "Unconventional", "No Box Thinker", "Trainer Who Does Not Use Powerpoint" are some of the titles given to him by those who have attended his courses
- Labelled as the MOST INNOVATIVE NLP trainer in India
- Trained/coached over 20,000 people across 16 nationalities (including American, Australian, British, Canadian, Cyprus, Dutch, Egyptian, German, French, Spanish, South Africans and many more)
- Conducted Trainings in Dubai, South Africa & India
- Conducted Total of 79 NLP certification trainings & 39 ICF Approved Life Coach certification trainings
- Certified 65 batches of NLP Practitioner & 7 batches of NLP Master Practitioner in live trainings
- Certified 47 batches of ICF + NLP Practitioners & 5 batches of ICF + NLP Master Practitioners in the dual certification courses in live trainings
- Certified 20 batches of ICF approved NLP Coaches in online trainings
- Completed 134+ workshops of Emotional Fitness Gym®
- Probably the only NLP trainer in India who teaches you practical NLP that you can use in the Boardroom
- Interviewed by Times Of India, Mid-Day & MJ Shubhra of Radio One 94.3 FM
- More than 2000 skill endorsements on linkedin

Watch Video Testimonials For Anil Dagia's Trainings
Click Here