Here Is What You Need To Know Before You Enroll For My ICF Approved Life Coach & Executive Coach Skills Certification Course
If you have been considering attending a life coaching or executive coaching skills course, here are the top 7 reasons why people attend a coach certification training (based on a research survey of people who choose to become coaches):
Learn the very best practices in coaching skills that enhance the coaching process maturity


To shift from your existing profession & start your journey in the profession of life coaching & executive coaching


To add on to your existing profession & start your journey in the profession of life coaching & executive coaching


You have a desire to help others & want to become an enabler to help people realize their potential


To understand yourself better through the process of self discovery & transform yourself to become more effective and achieve personal mastery


Gain professional credibility & add qualifications to your profile so that you command professional authority


To obtain formal certification that enhances your income & boost your career
Why do people want to become life coaches & executive coaches?
From my experience of training 100's of people to become life coaches & executive coaches, people take to coaching for one or more of the following reasons:
You are overworked and tired in the meaningless rat race of life


You wish to switch your career / profession that you find more fulfilling


You are saddened either by your own state or by those whom you came across and wished you could be of help to them


Some women seek independence from a loveless and abusive marriage and want to pursue life coaching as a means of livelihood by being able to help other women in similar situations


Passion & contributing to a cause greater than yourself is what excites you


You yearn to make a significant difference in the life of others


Your idea of growth includes helping other people grow in life


You are passionate about making a difference to others and desire to help people grow personally & professionally


You want to feel the sense of fulfillment by being able to contribute to others lives in a deeply touching way


You deeply care about & are invested in your own self development & growth as a professional & as a human being


You are a practicing life coach or executive coach & want to bring the value of cutting edge frameworks & models that increase your market value with your clients (and also earn ICF ACSTH training hours in the process)


You are a trainer & want to significantly enhance your market value by venturing into the high value profession of executive coaching


You are in the HR profession & are required to or wish to coach executives in your organization


You are in the Learning & Organization Development (L&OD) profession & want to implement the coaching framework in your organization


You are in the profession of psychology or counseling & want to generate results for your clients that are not possible through your models of psychotherapy & counseling
How To Choose The Right Coach Training Course For You?
Before you enroll for a coach certification training, it is crucial that you do your homework well & choose a course that will truly serve your purpose. So what's the criteria that sets apart the right training course from many other cheap or expensive but totally useless courses. Here are 4 very important questions that you must ask:
"will I be able to easily apply these skills not only in coaching but also in my personal & professional life so that I can enable massive transformations in my clients so that they can maximize their lives?"

(You would think that a coach certification training would fulfill this most basic requirement. You are wrong. There are plenty of courses out there which leave you hanging out with no way of knowing how to proceed).


"how much value am I going to get from this course for the price that I am paying?"

(The prices for various coach certification training courses vary drastically & the only way to truly compare courses is not on the basis of cost alone, but on the basis of value).


"how will I be able to get clients, generate income, & on a continuing basis charge more for my coaching business?"

(Most coach training courses provide you coaching skills training. But if you do not already know how to market & sell your services yourself – you will find yourself in a very difficult spot).


"Is the certification course, genuine, authentic & credible? Will it be recognized?"

(There are many courses out there claiming to be coach certification training courses but lack any kind of recognition, respect or credibility in the market. You need to ensure that you enroll for a course with proven credibility).
You need to realize, there is a cost to not doing your homework
Here is what will happen if you do not do your homework well:
You might end up attending a training & then realize you are unable to apply anything in the real world

(In this case you were doomed for failure from the very beginning because business reputation & income in this profession is based purely on how competent you are as a coach – in other words, how well you can apply the theoretical models in the real world).


You may realize you have wasted your money and also your time by choosing a "cheap" course only on the basis of price alone.

(You wouldn't learn much from such a course, and for sure you won't be able to apply any of it in real world).


Maybe you might learn something & be able to use it. But if you don't know how to get clients you will not make much progress.

(In fact you will make no progress at all & all your time, money & effort would have gone waste).


You might find yourself getting embarrassed when you present your qualifications & realize they are not worth anything if your certification is not recognized & credible.
Here Is How My Training Exactly Fits Your Needs!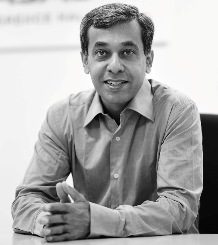 I am Anil Dagia & have got training courses that serve all your needs, fulfill your purpose & then offer even more value.
I have been in the area of coaching & personal transformation for over a decade & have trained/coached over 15,000 people from across 15 nationalities including but not limited to Americans, Australians, British, Canadians, Dutch, Egyptians, French, German, Spanish, South Africans & many more.
I started by specializing in Neuro Linguistic Programming & over the course of my journey have incorporated the best practices from coaching, behavioral economics, psycho linguistics, philosophy, mainstream psychology, neuroscience & many more advanced methodologies & fields of study. I have even created my own model of transformation called Emotional Fitness Gym®.
I have created 2 unique dual certification coach training courses. These courses have been approved by International Coach Federation (ICF) for coach specific training. At the same time, these courses offer you the Practitioners & Master Practitioners certification in Neuro Linguistic Programming. My courses have the distinct advantage of being the World's 1st NLP Practitioner & NLP Master Practitioner certification trainings to be approved by ICF for Coach certification.* (Refer disclaimer given below on this page). These courses are also the 1st NLP courses in the world to be pre-approved by HRCI (2017) & SHRM for recertification credits for HR professionals.
This Training Worked For These People - It Will Work For You Too
"It is exactly what I wanted to reshape my career & take it the way I want to take it ahead."
~ Sanam Harkare, HR Professional


So for Anil's Trainings, the Content, his ICF knowledge and his NLP knowledge and of course the way he trains the way he makes it very effortless that's anyways a given."
~ Shilpa Roy, IT Professional


"I think Anil is a Phenomenal Facilitator. I am going back with some clear Strategies and Solutions which will enable me to offer better services to my clients. I found it personally also very valuable."
~ Shreesh Jamdar, Professional Coach, Leadership Development Facilitator & HR Advisor


"The coaching (training) that I just concluded with Anil has helped me a lot to acquire new skills, new knowledge set, which I trust will be able to help me going forward in life & in business."
~ Ajay Shastry, Managing Director of Southern Africa Ferro Alloys Ltd


"Learning from Anil has been a very refreshing experience. His jargon free presentation without powerpoint, with assignments as an important focus, a very clear learning."
~ Dr K Selvaraj, Psychiatrist, Professor of Psychiatry


" It's been a great training, I'm going to be able to develop my programs for companies & individuals to reduce stress and propose programs as well to create a desired lifestyle for better health & better body. I have learned lot of models too."
~ Catherine Rubio, French Citizen, Wellness & Life Coach, Yoga Instructor


"The training was AWESOME ! I was completely bowled over the way the training was conducted & the knowledge & facilitation which was imparted on the skills is very useful. I will be able to use this effectively in my day to day work & also while coaching."
~ Shyam Iyer, HR Head, Tata Power (SED)


"It was EXHILARATING, FANTASTIC, HIGHLY KNOWLEDGE BASED. It has provided me with a lot of NLP tools & ICF coaching guidelines with it to really become a good life & executive coach for CEOs, MDs and/or Business Heads."
~ Mustan Tambawala, CEO


"I not only learned a lot of different models & strategies to powerfully evoke positive results in my future clients but I also felt deep internal shifts personally which had great impact."
~ Nicholas Puszka, Australian Citizen, Permiculture Student